Realme launched their most anticipated smartphone for the year, the GT 2 Pro, dubbed as the brand's Most Premium Flagship to date. The launch of the GT 2 Pro is a critical step forward for realme, breaking into the high-end smartphone market and delivering truly powerful features to Malaysian users. The premium flagship device at 12 + 256GB will come with an early bird promotion pricing of RM2,599.00 on 25 March, with a series of early bird promotions on both online and offline platforms to deliver a 'Dare To Leap' value and experience to local users.
Realme GT 2 Pro
Truly a smartphone that is impressive all round, the GT 2 Pro comes with an arsenal of unmatched features, such as the world's first 2K AMOLED Flat Display with LTPO technology, the world's fastest Android processor, the Snapdragon 8 Gen 1 5G chipset, and a triple camera setup with 50MP + 50MP dual primary camera and the world's widest 150-degree Ultra Lens. These impressive features under the hood are complemented with an industry-first bio-based polymer exterior Paper Tech Master Design developed in collaboration with world-renowned designer Naoto Fukasawa to deliver a premium paper texture that truly redefines the standard of premium flagships.
"The GT 2 Pro is a shining example of what realme can achieve with our Dare To Leap brand spirit and philosophy, to deliver the Most Premium Flagship smartphone from realme to date that is in a class of its own,"

"We are absolutely thrilled that Malaysians can now have the opportunity to experience the power, performance, beauty, and value that comes with the GT 2 Pro, and we look forward to making a strong impression in high-end smartphone space starting with this and more to come in the future."Crystal Gong, Brand Director of realme Malaysia
A Sensational Display For Breathtaking Viewing Pleasures
realme GT 2 Pro adopts Super Reality Display, which is built to deliver incredibly realistic visuals that feel rich, natural, and authentic and provide ultra-high-resolution display with a high refresh rate. As the world's first 2K AMOLED Flat Display with LTPO 2.0 Technology, the Super Reality Display was created using a 6.7-inch E4 AMOLED with over 4.5 million pixels and a whopping 525 pixels per inch. This greater pixel density means users will be able to experience significant visual improvements such as text appear sharper, and images will show amazing details.
The Super Reality Display has an outstanding color performance with a 10-bit color depth, producing 1,024 shades of red, green, and blue each, adding up to an impressive 1.07 billion colors in total. This delivers 64 times more color information than a typical 8-bit display, which can only produce about 16 million colors. The Super Reality Display can reach a peak outdoor brightness of a massive 1,400 nits, along with 10,240 individual levels of brightness that adjust automatically according to your surroundings for optimal power saving and a comfortable viewing experience.
Paired with LTPO 2.0 technology, the Super Reality Display can automatically adjust the refresh rate between 1 to 120 hertz and deliver an improved battery life by 1.7 hours. Complemented with GT mode 3.0, the GT 2 Pro also offers users 1,000Hz instant touch sampling. The premium flagship has also received the highest possible score for screen quality from DisplayMate at A+, which also comes with built-in Corning's Gorilla Glass Victus to ensure your display is protected.
Uncompromising Performance That You Deserve
A premium flagship smartphone deserves premium flagship power. The realme GT 2 Pro runs on the world's fastest Android processor, the latest Snapdragon 8 Gen 1 Platform. The chipset adopted advanced 4nm process technology and the world's first ARM v9 architecture, delivering 30% peak performance and sustained efficiency promotions. The realme GT 2 Pro also features the industrial largest heat dissipation area at a staggering 36,761mm² for up to three degrees Celsius of cooling to maximize the chip's output that translates to performance users can experience. The cooling area is constructed with an all-new 9-layer cooling structure with a 4,129mm² Stainless Steel VC area, providing sustained peak performance for long and intensive uses.
A Trendsetting Rear Design, In Collaboration With Naoto Fukasawa, Inspired By Paper
realme takes innovation a step further with the GT 2 Pro, putting a strong focus on sustainability from design, to manufacturing, and form factor. The continuation of the collaboration between realme design studio and world-renowned designer Naoto Fukasawa has this time brought forth a Paper Tech Master Design concept to the GT 2 Pro, featuring an industry-first, eco-friendly, bio-based polymer on the rear cover to create a premium paper texture.
After 12 months of research with 63 prototypes, the final realme GT 2 Pro variants incorporate cutting-edge craftsmanship and 0.1mm laser engraving process. Users will be able to experience the natural grain and consistency of paper when using the GT 2 Pro, which is skin-friendly, fingerprint resistant, and can also prevent scratches to the device. The smartphone is also made to be more premium with exquisite colours, White and Black.
In line with the design philosophy of sustainability, the rear shell of the realme GT 2 Pro is made of SABIC's LNP ELCRIN bio-based copolymer material, which is certified by ISCC+. As compared to fossil-based alternatives, SABIC's LNP ELCRIN bio-based copolymer material could offer similar performance, while providing up to 39% CO2 reduction*. The sources of SABIC's bio-based materials are derived from biomass waste or residue that does not compete with the food chains, such as crude tall oil and hydrotreated vegetable oils.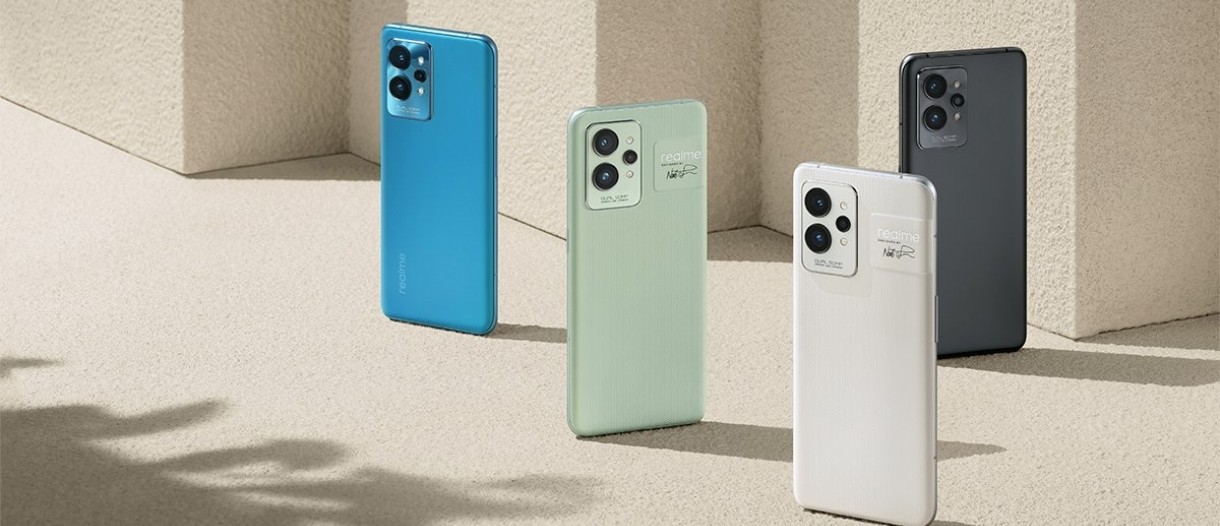 Triple Cameras With Ultra-Wide And Micro-Lens For Maximum Photography Satisfaction
realme GT 2 Pro adopts a remarkable triple-camera setup featuring the world's first 150° Ultra-Wide Camera and a 40x Micro-Lens Camera. The 50MP primary cameras utilises IMX766 flagship-level sensor with all pixel omni-directional PDAF and OIS features. The IMX766 comes with both optical image stabilisation for photos, and electronic image stabilisation for videos.
Users will also get to enjoy creative photography with the world's first 150-degree Ultra-Wide Camera to extreme panoramas, which gives you a 278% increase in the field of view. To ensure our users take full advantage of the world's first 150-degree camera in a smartphone, the realme GT 2 Pro comes pre-loaded with the fish-eye mode to help unleash creativity.
Never miss a detail with the 40x Micro-Lens Camera 2.0 that allows you to take a zoomed-in view of the world we live in. The 2.0 version allows you to be two times further away from the subject to help make focusing easier than ever. The device also comes with an increased depth of field by four-fold, ensuring powerful focus for your subject and delivering truly bokeh-licious images.
Paired With A Powerful realme UI 3.0 Software To Match
Based on Android 12, the GT 2 Pro comes installed with realme UI 3.0 that provides newly designed 3D icons, Fluid Space Design and Omojis, as well as improved privacy functions like app permission control and location hiding for better privacy and security control.
Designed with functionality and customisation in mind, the realme UI 3.0 allows users to express themselves with greater freedom and giving users the flexibility to create their own unique GT 2 Pro experience. To top it off, realme is also committed to delivering three years of major Android OS updates and four years of Android security patches for the GT 2 Pro.
Availability
In conjunction with the launch of GT 2 Pro, realme will be offering a series of exciting promotions for fans and users.
For more information on the realme GT 2 Pro in Malaysia, stay tuned to realme Malaysia's Official Facebook page and don't miss out on all the exciting announcements to come!