Lenovo today launched Lenovo Smart Classroom in Malaysia, which is an intelligent hybrid learning solution that makes learning more effective for students. Combining AI, big data, cloud computing, and other advanced technology, Lenovo Smart Classroom was developed with the aim of empowering primary and secondary schools to better organise instructional workflows. With this solution, traditional classrooms become vibrant hubs for knowledge sharing and collaboration, allowing teachers to be able to focus more on engaging students and equipping them with knowledge and skills for success.
Lenovo Smart Classroom
With a comprehensive solution including hardware, software, and services, Lenovo Smart Classroom simplifies content management, promotes student engagement, ensures visibility on student progress, and secures student devices anytime and anywhere. This benefits teachers, students, and parents, as well as school IT and administrators.
Simplify teaching: The one-stop Learning Management System (LMS) reduces the burden on teachers in lesson preparation and dissemination, allowing them to distribute teaching resources and assignments easily at home or in school. Teachers can conveniently track, manage, and monitor educational content displayed to students. Automated grading makes marking assignments easy and seamless. With a more streamlined workflow, teachers can focus on inspiring and engaging students.
Engage students: With high-quality, curriculum-based multimedia content that students can access anywhere, teachers can facilitate interactive activities easily, and take advantage of features such as digital whiteboards and screensharing to seamlessly complement their teaching. Students can stay connected and continue learning even at home, as classes and assignments are delivered to their devices directly. Further, AI-powered modules let them learn independently at their own pace.
Visualise progress: Teachers, parents, and students can easily view students' learning progress and class performance with a real-time dashboard. Learning analytics, based on students' coursework, assignments, and tests, will enable teachers to provide support when and where it's needed, and to keep parents up to date on children's learning progress.
Ensure safety: School and IT administrators can optimise IT operations, ensure compliance, data security, and asset accountability to ensure a safe and secure learning environment for students. In addition, school administrators can make data-driven decisions to manage the curriculum and monitor overall school performance through intuitive dashboards.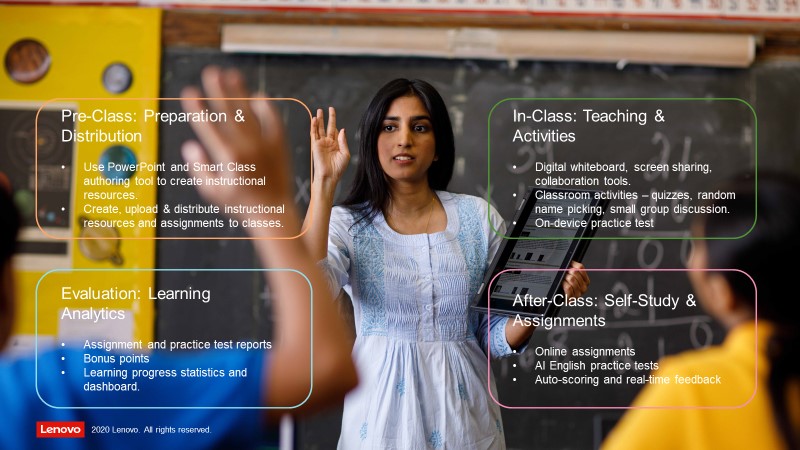 More than just a learning management system, Lenovo Smart Classroom also offers online and onsite training and all-in-one support for Lenovo devices, interactive whiteboard, content digitization and more. This enables Lenovo to tailor solutions to meet the schools' needs.
"The challenges of managing a modern classroom have always been there for teachers, but these challenges are even more pronounced in a hybrid environment. Lenovo Smart Classroom provides excellent support for classroom management whether in the classroom or for remote learning and distance learning. The goal is to provide tools to manage devices wherever they are and to manage the learning experience wherever the student is to free the teacher up to maximize learning outcomes,"

Varinderjit Singh, General Manager, Lenovo Malaysia.
Pricing And Availability
Lenovo Smart Classroom is now available in Malaysia. For more information about Lenovo Education solutions, please check out this link here.