The Huawei Watch 3 series has finally made its way to Malaysia, and it is the first smartwatch to be powered by HarmonyOS 2. The all-new HUAWEI WATCH 3 Series is one of the most personalised gadgets a user can own, pulling comprehensive insights by using a wearers' vitals. In the era of the Internet of Things (IoT), smartwatches are poised to become the hub of interactivity between devices, empowering users with the next level of control over their hardware.
Huawei Watch 3 Series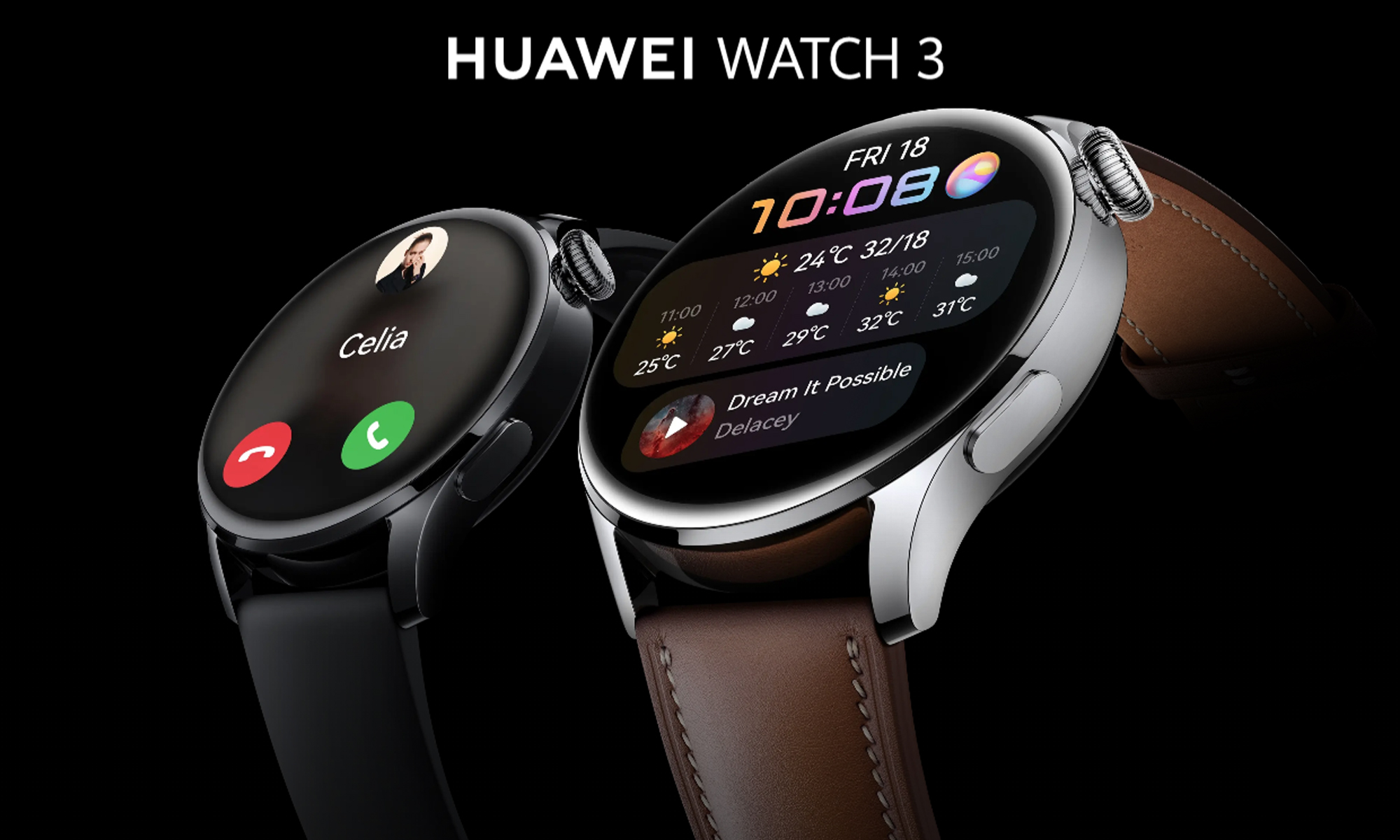 To recap, the HUAWEI WATCH 3 and HUAWEI WATCH 3 Pro from this flagship smartwatch series is expected to deliver consumers smart life experiences, constructed by enhanced interaction and interconnectivity in various scenarios. On top of being produced with a science-based health management solution, the smartwatch series brings premium features including independent eSIM calling, ultra-long battery life, Smart Alert Assistant functions and improved sports user experience, all wrapped in an aesthetic-focused overall design appearance.
The aesthetic values embedded in this HUAWEI WATCH 3 Series is the result of a fashion forefront and top smartwatch trends brought by HUAWEI brands. To make this a reality, HUAWEI brings premium features to its body such as the lightweight titanium and stainless-steel build, tracking-sensitive ceramic glass at the back, corrosion and sweat-resistant material. The ceramic glass delivers warmth to the touch and skin-friendly on top of its useful tracking features.
The Pro model comes with heavy-duty titanium form, it's just not for good looks, but also offers comfort and withstanding extreme weather condition. HUAWEI WATCH 3 Series perfectly balances the epitome of craftmanship with a round design, minimalist appearance. It also comes with an ultra-curved 3D and round edges glass screen with anti-fingerprint and scratch-resistant quality, these features provide durability for outdoor activities.
It is a standalone smartwatch series that supports eSIM to make or receive calls without needing your smartphone around. The eSIM feature supports the Malaysian tethering network, which means users able to opt-in without hassle, available to register an eSIM plan at the nearest local operator stores like Maxis, Digi & U Mobile.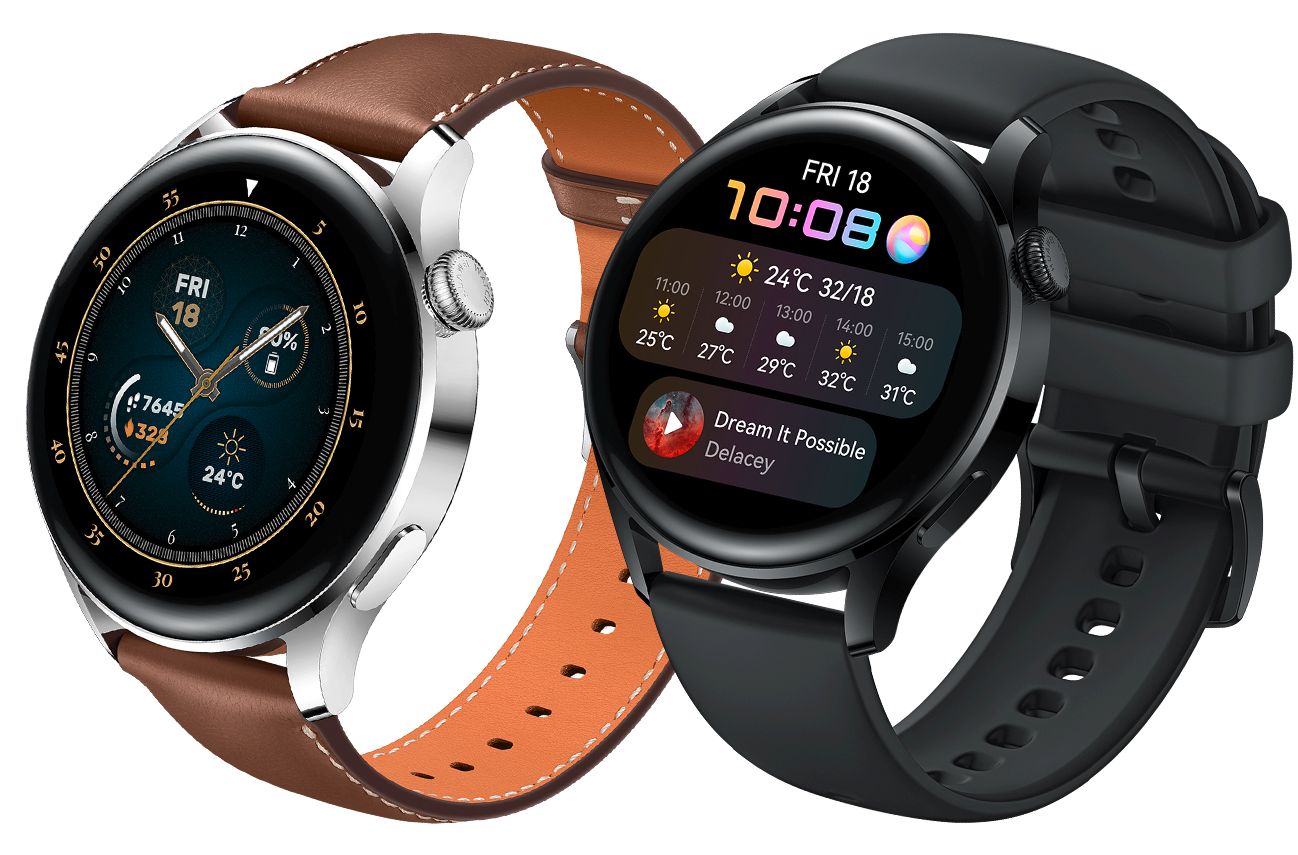 While the HUAWEI WATCH 3 Pro model can last up to five days in Smart Mode and 21 days in ultra-long battery life mode, the HUAWEI WATCH 3 can accompany its users by lasting up to three days in Smart Mode, two weeks in ultra-long battery life mode. Complimenting with the convenience of a long-lasting battery, both smartwatch models support the dual charge method. Users can utilise this with an option to charge with reverse wireless charging. Why carry a big chunk of power bank when you can simply charge with a smartphone?
The HUAWEI WATCH 3 Series lets users maintain their health with its science-based health monitoring features such as SpO2 (blood oxygen monitor), heart rate, sleep, and stress. By going hand in hand with long-lasting battery life, these comprehensive features can let its users stay up to date on their wellbeing every time they activate it on their wrist.
The heart rate and stress monitoring features from HUAWEI WATCH 3 Series come in handy. The heart rate monitoring feature can warn its users if the heart rate is not normal and as for the stress monitoring, it tracks stress level and suggests a method to release pressure like a breathing exercise. To complement the monitoring support during the day, the HUAWEI WATCH 3 Series also comes with a sleep monitoring feature that aims to improve the users' sleeping condition throughout the night. Featuring HUAWEI TruSleep™ 2.0 and AI technology, the smartwatches can produce big data analysis before identifying common sleep issues and suggest personalised solutions.
The HUAWEI WATCH 3 Series comes with smart alert assistant functions consisting of fall detection, SOS alert, video watch face, voice notepad and MeeTime application. If the users are alone and don't feel too well, the fall detection and SOS alert feature in the HUAWEI WATCH 3 Series has got their back. It detects if the users are about to fall and automatically enters Help mode to notify those who are in their emergency contact list that they have set up. With SOS alert, these smartwatches can make a phone call in an emergency. Users can also opt to manually press the volume button five times in a row turn on the alert.
On top of ensuring the safety of its users, the HUAWEI WATCH 3 Series helps increase productivity by providing a note-taking feature with its Voice NotePad. Users can easily record meetings almost instantly in voice memo form. It is worth to mention for online meeting, users can also enjoy smooth calls via Wi-Fi and data with its MeeTime communication app.
Boasting a serious array of sports features, the HUAWEI WATCH 3 Pro model is recognised as the first-ever smartwatch manufactured with Dual GPS to allow users to stay active and move as further as they want. Both smartwatch models offer sports monitoring up to 100 workout modes. HUAWEI WATCH 3 Series has the capabilities to record key data and suggest suitable workout plans. Calories burnt, activity duration, heart rate interval, workout progress and recovery time are among the key data that can be generated from both models. 
Running on HarmonyOS 2, the HUAWEI WATCH 3 Series is a user-friendly device that supports smartphone syncs, not exclusively from HUAWEI but including Android and iOS-powered smartphones as well. All in all, running on HarmonyOS 2 is aligns with its availability in the Malaysian market. You do not have to worry much about its application compatibility as it supports various available apps in the country via HUAWEI AppGallery installed on the connected smartphone. 
Pricing And Availability
Starting from 25th June at 10:00 a.m. until 6th July 2021, consumers can pre-order the HUAWEI WATCH 3 Series and grab exciting freebies worth up to RM 828* on HUAWEI Store Online, Shopee, Lazada and Senheng.
Now that you know when the pre-order period is taking place, be sure to block your calendar and head over to HUAWEI Store Online, Shopee, Lazada and Senheng to get your hands on the latest addition to the HUAWEI wearables family. In case you missed out on the earlier paragraphs, with every purchase, customers can enjoy amazing freebies worth up to RM 828*!
| | | |
| --- | --- | --- |
| Product | RRP (RM) | Free Gifts* |
| HUAWEI WATCH 3 | 1,699 | HUAWEI FreeBuds 3i + HUAWEI Easy Fit 2 Distilled Blue Nylon Strap (RRP: RM 548) |
| HUAWEI WATCH 3 Pro | 2,199 | HUAWEI FreeBuds 3 + HUAWEI Easy Fit 2 Distilled Blue Nylon Strap (RRP: RM 828) |