Playing Genshin Impact till there's no tomorrow? Same here. We're currently on the Klee banner, but most of us have been thinking. What's next? Well, we came across this leak posted by ququyou. According to them, Mihoyo has already lined up several character banners through to February 2021.
UPDATE – Rearranged banner schedule to reflect new changes.
Genshin Impact Wish Event Banners
There was that Venti event banner that spanned from the 28th of September to the 18th of October. The banner saw a probability increase for Venti/Barbatos, the Anemo Archon.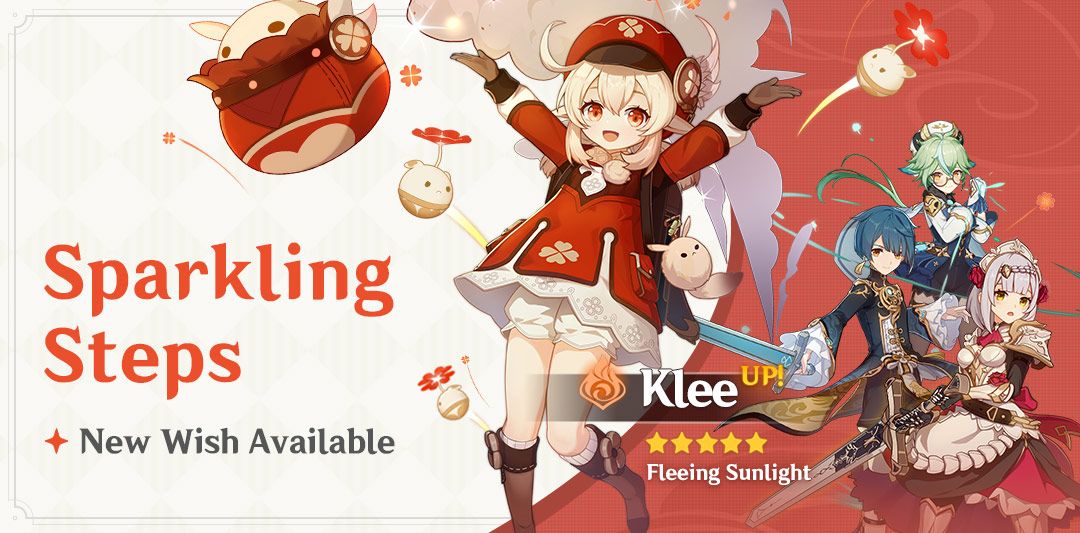 Next, there's the Klee banner, everyone's new favourite loli (?). This current banner will be running from the 20th of October to the 9th of November.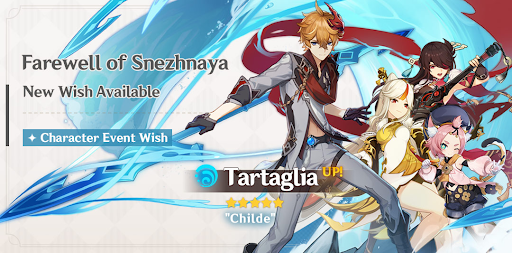 Zhongli's banner was expected to come right after Klee's banner, and introduced on the 1.1 update. However, he has been pushed back, and Childe's banner will first take the slot. Accompanying him in RATE UP is Ningguang, Diona, and Beidou.
Debuting along with the Childe banner, the Wanderlust Invocation standard banner has been replaced with probability up for Mona, 5-star Hydro user, Keqing – 5-star Electro sword user, and Qiqi – 5-star Cryo sword user.
After the Childe banner, there'll be a one day gap before we get the Zhongli banner. This banner will see a probability increase for Zhongli, a Geo user. The Zhongli banner will also see Xinyan, Razor, and Chongyun getting probability increase.
The end of Zhongli's banner will also see the expansion of the Dragonspine map in the game. This update will arrive on the 23rd of December 2020 to the 12th of January 2020. This also means that the new banner featuring genius alchemist, Albedo will arrive! It also features four star characters – Bennett, Sucrose, and Fischl.
Albedo is gone, and that means Ganyu is here. She will be accompanied with Xiangling, Xingqiu, and Noelle as the 4-star characters. Ganyu is a 5-star cryo bow user, and she was released on the 12th of January 2021. Launched along with her banner is her exclusive story quest, which you will need a story key to unlock.
Lastly, if you've all been waiting for this character, Xiao's character banner event and the Lantern Rites act will only be released from the 3rd of February 2021 to the 23rd of February 2020 in the Genshin Impact 1.3 Update, right after Ganyu's banner is over. He will be accompanied by Diona, Beidou, and Xinyan.
As seen on the image above, Keqing will be the next character to get a rate-up, which will debut on the 17th of February 2021 right after Xiao's banner ends. She will be accompanied by Barbara, Ningguang, and Bennett once again.
Last but not least, the final banner to be featured in the v1.3 update is none other than Hu Tao, accompanied by Xingqiu, Chongyun, and Xiangling!
Venti will be back, on the next rate up banner, which will debut on the 17th of March 2021 right after Hutao's banner ends. He will be accompanied by 4-star characters Noelle, Sucrose and Razer.
Happening right after Venti's banner is Childe, and he will be accompanied by new 4-star character Rosaria, along with Fischl and Barbara. The banner will debut on the 6th of April, which is just one day after Venti's banner ends. The weapon banner that will go with Childe's banner features the Skyward Harp, and Lost Prayer To The Sacred Winds, along with the new Alley Hunter 4-star Bow.
With the release of the Genshin Impact 1.5 update, players will get a Zhongli banner re-run first, with Eula's debut banner coming right after. The new 4-star pyro catalyst user will be joining Zhongli's banner, along with Noelle and Diona. Meanwhile, the new 5-star cryo claymore user will be having her banner during the second half of Genshin's 1.5 update.
Following up after Zhongli is none other than the Spindrift Knight herself, Eula! She will be accompanied by Xinyan, Xingqiu, as well as Beidou, which is surprisingly three claymore characters in one banner. As for the weapon banner, her signature weapon the "Song of Broken Pines" will debut alongside the Aquila Favonia 5-star sword.
Rumors
Here are the rumored banner to appear next after the confirmed ones above. We won't go too much into detail, and these are just rumors so please take them with a grain of salt.
Version 1.6:
Final Words
Do take note that each character banner event will last for about 14 days. The information mentioned above is just for reference, so do please take this piece of news with a grain of salt and wait for Mihoyo to officially announce them. Mona and Keqing is received differently in different markets, so the mystery female character banner event might be changed anytime.
The above Wish banner event schedule is once again, for reference, and we hope this can help you manage your Primogems for you to get your favourite characters. Should there be any changes from Mihoyo's side, we will be updating this article accordingly. Apart from the event banners, you can also read up on the following Genshin Impact related articles: