The Genshin Impact 1.3 update has officially been announced, and it's coming on the 3rd of February, which is new the Chinese New Year. Genshin Impact players have a lot to look forward to, so stick around and see what's new!
Genshin Impact 1.3 Update
New Characters
Xiao
Xiao here is an anemo polearm user, and he's also an Adepti. Xiao's banner will reportedly be replacing Ganyu's banner as soon as hers end, on the launch day of the Genshin Impact 1.3 update itself. However, that still remains to be seen till the day itself.
Hu Tao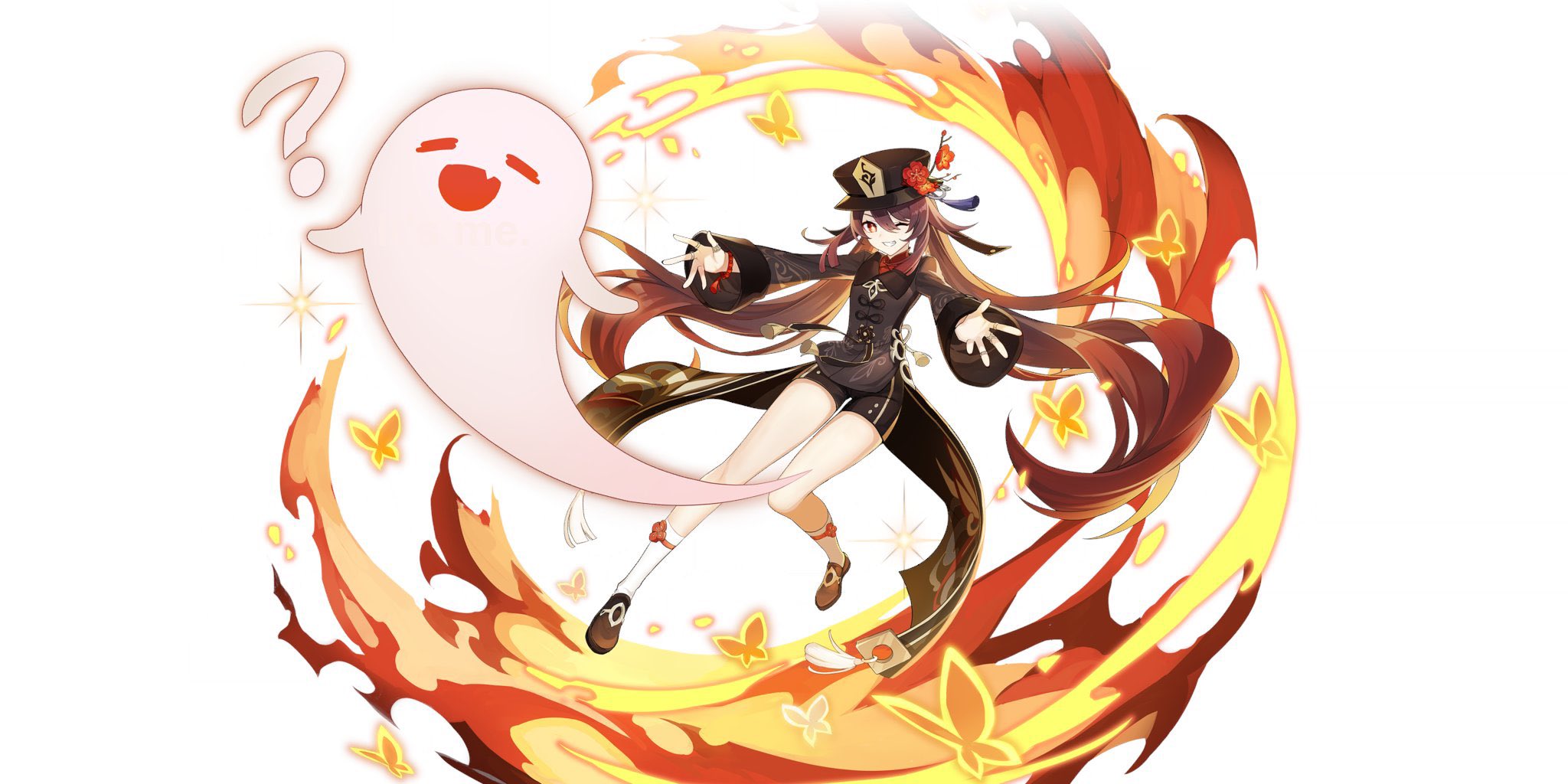 Hu Tao wasn't officially announced in the stream, so she might be saved for future banners. She is a five-star character who is a polearm user as well, and she has the Pyro vision, making her a fire character. She loves playing pranks on people, and has annoyed many other characters in Teyvat.
New Events
Speaking of new events, the Genshin Impact 1.3 update will continue the Archon Story which involves the "Lantern Rite Festival", which is based off of the lantern festival celebrated by the Chinese community all around the world. Not much is known about the story's content, but it is said to be the conclusion to the Liyue Archon story.
There's a new tower defense style mini game within the game, called Theater Mechanicus. In this mini-game, players can set up multiple defense system and join the battle themselves to keep the monsters from reaching their destination.
In Genshin Impact update 1.3, there will be tonnes of new events that will surely entice Genshin Impact players to play everyday. If you login daily from the 11th of February to the 26th of February, you will be able to receive 10 Intertwined Fates for free.
In "Stand By Me", players will also have a chance to select a four-star character of their choice, entirely free. Players will need to earn 1,000 peace talismans, and then use the talismans to exchange for a four-star character of their choice. The 4-star characters include Ningguang, Beidou, Xiangling, Xingqiu, Chongyun, and Xinyan.
Night Sky's Grace

In Night Sky's Grace, all you need to do is to just login daily, to receive Fragile Resin, Intertwined Fate, and more. This event starts from the 26th of February till the end of version 1.3. Players with adventure rank 2 and above are eligible and the below are the rewards:
2/26:Intertwined Fate ×1;Golden Crab ×5;Mystic Enhancement Ore ×10
2/27:Fragile Resin ×1;Tianshu Meat ×5;Hero's Wit ×5
2/28:Intertwined Fate ×1;Guide to Diligence ×3;Mora ×50,000
3/1:Fragile Resin ×1;Guide to Gold ×3;Mystic Enhancement Ore ×10
3/2:Intertwined Fate ×1;Guide to Prosperity ×3;Hero's Wit ×5
May Fortune Find You

In May Fortune Find You, this is similar to the Seize The Day login event, where you can login everyday for seven days straight to receive up to 10 Intertwined Fates, Mora, and more. Here are the reward schedule for each day:
Logins: 1 day – Intertwined Fate ×1
Logins: 2 days – Mora ×80,000
Logins: 3 days – Intertwined Fate ×2
Logins: 4 days – Mystic Enhancement Ore ×18
Logins: 5 days – Intertwined Fate ×2
Logins: 6 days – Hero's Wit ×8
Logins: 7 days – Intertwined Fate ×5
Katherine will also have new events for you to earn talent books, experience books, mystical enchantment ores, more, weapon ascension material, and more.
Five Flushes of Fortune
In Five Flushes of Fortune, players will receive "Kurious Kamera" gadget, and they are required to capture photographs of different random colours everyday. There are five colour photos to capture, and they can be exchanged for primogems, hero's wit, mystical enchantment ore, and mora. On top of that, photographs that you have excess of, you can gift it to your friends. Vice versa, your friends can send their over to you. It's kind of like a trading system, but only for these photograph cards.
Ley Line Overflow
In Ley Line Overflow, players will have a chance to claim twice the rewards, by just using the number of resin they would on one claim. This is a limited-time event, which is happening from the 26th of February to the 5th of March 2021. You can only claim double bonuses up to three times a day.
New Monsters
There are two new monsters that will debut in "Vishaps and Where to Find Them", which is part of the Genshin Impact 1.3 update's major event. Introducing the Geovishap and Primo Geovishap, which is the evolved version of the Geovishap Hatchling that's currently already in the game. These monsters have different elemental traits, and they reward players with a vast array of prizes including experience books, talent books, mora, and more.
New Weapons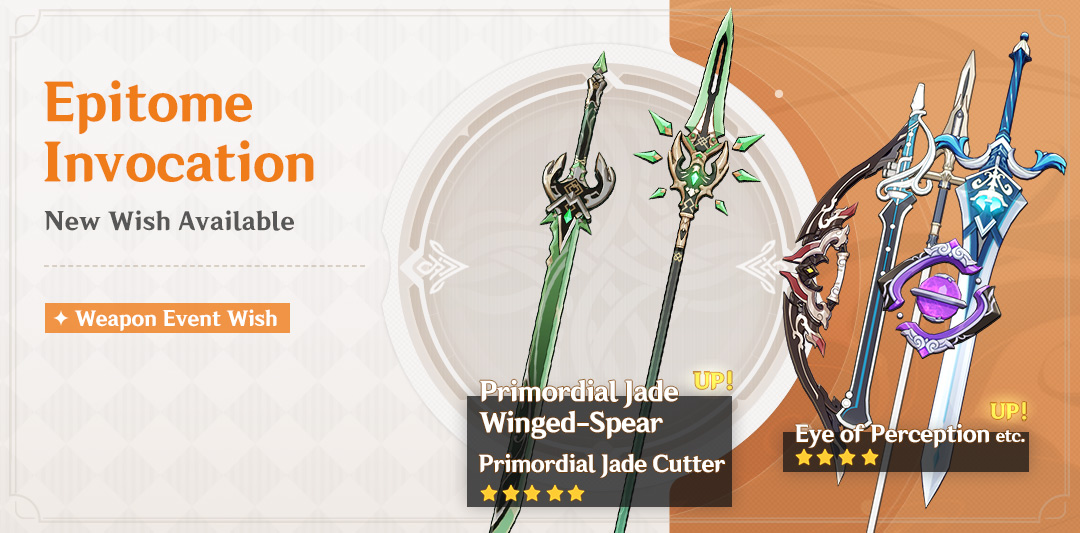 According to the new weapon banner "Epitome Invocation", the banner features two weapons, one of them being the Primordial Jade Winged-Spear, and the new sword, which is the Primordial Jade Cutter. There will also be rate-up for Rust, Eye of Perception, Flute, Sacrificial Greatsword, and Favonius Lance. As for the new Staff of Homa, Lithic Sword, and the Lithic Spear, it will be coming in future weapon banners.
*Do take note that of the above weapons, the event-exclusive weapon will not be available in the standard wish "Wanderlust Invocation".
The Staff of Homa seems to be a spear made specially for Hu Tao, as it has a base attack of 46, and a main attribute of CRIT DMG starting at 14.4%. For its ability description, the user's HP is increased by 20%. Additionally, it provides an ATK bonus based on 0.8% of the wielder's max HP. When the wielder's HP is less than 50%, this ATK Bonus is increased by an additional 1% of max HP. This would work well with Hu Tao's E skill where she sacrifices her HP for an ATK boost.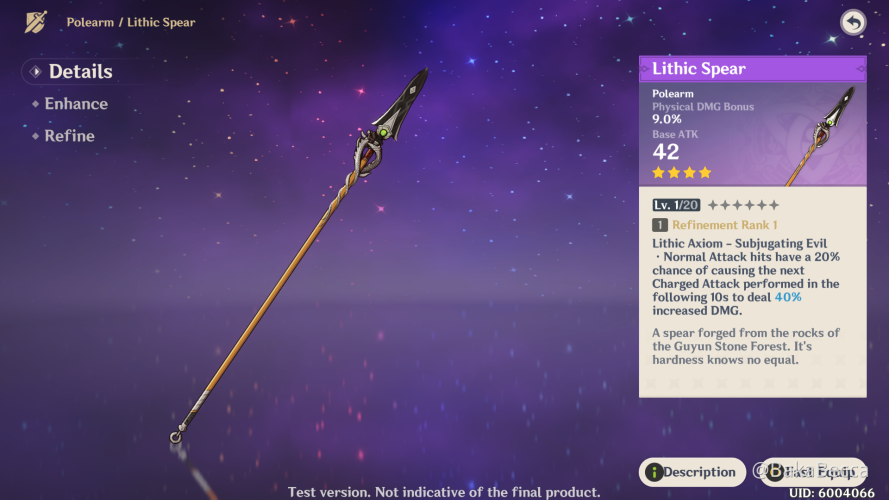 The Lithic Spear is also a polearm that has a base attack of 42, and a main attribute of physical DMG bonus. For its ability description, its normal attack hits have a 20% chance of causing the next Charged Attack performed in the following 10s to deal 40% increased DMG. This polearm seems to be a great fit for Xiao, Xiangling, as well as Zhongli.
There also seems to be a new weapon, as seen held by Xingqiu. There's no additional information about it, but it seems to be of the Primordial Jade series weapon.
New Battle Pass Adjustment
Mihoyo will also be making some adjustments to the Battle Pass to give players free fragile resin! BPs from the the Genshin Impact 1.3 update, including the Sojourner's Battle Pass and Gnostic Hymn will obtain one Fragile Resin per 10 levels, starting from Level 5.
This replaces the Mystic Enhancement Ores that was originally there. However, this will not change the total amount of Mystic Enhancement Ore gained through the BP. These Mystic Enhancement Ores will instead be distributed amongst other levels.
Quality of Life Improvements
Mihoyo mentioned in their latest Developer's Discussion post, that all events in Version 1.3 that do not require challenging Ley Line Outcrops or Domains will not consume Original Resin. The vast majority of large-scale events in future versions will also not consume Original Resin.
For weapon materials, you will soon be able to hold down a button over the image of weapons materials to increase/decrease the amount consumed.
iOS users can soon use controllers too! Devices that have had their operating systems upgraded to iOS 14 or higher will now support the Xbox Wireless Controller (Bluetooth Version), Xbox Elite Wireless Controller Series 2, PlayStation DualShock 4 Wireless Controller, and iOS-specialized Bluetooth controllers (partial support)!
Last but not least, pre-loading is coming to mobile devices. Even before 1.3, mobile players will be able to pre-load the game, and this would reduce the amount of time needed to update game resources. Players can obtain the resource package from the latest version of the game from the login menu or Other > Pre-Install Resource Package.
That being said, you will still have to use the App Store or Google Play Store to download the latest game installation package, and the pre-installed resources will take effect automatically once the previous installation has been overwritten.
Players will soon be able to showcase more on their profile, including total number of achievements, spiral abyss progress, and up to 8 characters. Other players who view your profile will also be able to individually check the characters you have on your public profile to see their weapons, stats, artifacts, and more.
The archive will also be improved to add info and visuals for every creature in the world of Teyvat, as shown above. So if you've been wanting to take a closer look at any of the small or big creatures in the world, you can do so in the archive soon.
There will be a new gadget that will allow you to convert items that you have in excess to talent books, Mora, and more, as shown above.
The other conversion mechanism is available from Timaeus as he makes a breakthrough in alchemy. It will allow you to convert your current character ascension materials, combined with Dust of Azoth, and convert it into other character ascension material of your choice. For example, you can take THREE of your Varunada Gemstones and two powder, to convert into ONE Prithivi Topaz Gemstone. There are multiple combinations allowed, so you have to refer to the list.
Conclusion
That's all we know so far about the Genshin Impact 1.3 update. Mihoyo will also be having a livestream on the 22nd of January, 10PM to officially unveil the new things we can expect from the 1.3 update. There will be official announcements and multiple redemption codes given out randomly during the livestream, so do stay tuned! We'll update the link here once we have it.
You may also find the links below useful: