Today marks the release of Destruction AllStars, an intense vehicular combat game available exclusively on PlayStation 5 that challenges players to cause damage, destruction and devastation in vibrant arenas around the world. 
Destruction AllStars is available to PlayStation Plus members at no extra charge from today until April 5th. The game can be redeemed from the PlayStation Store right here.
Destruction AllStars
Dominate the glittering global phenomenon of Destruction AllStars — the spectacular prime-time sport for dangerous drivers! Master the art of intense vehicle-based combat through timing, tactics and skills to cause colossal amounts of damage, destruction and devastation in vibrant arenas across the globe.
Pile-on the destruction from behind the wheel or leap into the arena with parkour action to dodge attacks, take over vehicles, or use unique hero abilities to cause mayhem. Power up your AllStars hero vehicle to unleash special abilities in the arena.
A roster of 16 unique Stars are revved up and ready to compete. Strap in and fight to be crowned the Global Destruction Federation Champion.
At Lucid, we don't back down from a challenge. Destruction AllStars is just the latest example of this as we bring character and vehicles together in a destructive next-generation experience to create a new way to play.
There is something familiar, but original and contemporary in Destruction AllStars and we know you'll recognise this when you get hands-on. We can't wait to hear about your experiences, your favourite characters, near misses, last-ditch wins and your biggest destructive moments.
This is only the beginning for Destruction AllStars. We have new Seasons in the works with more content, more experiences and new challenges to overcome.Lucid Games Ltd.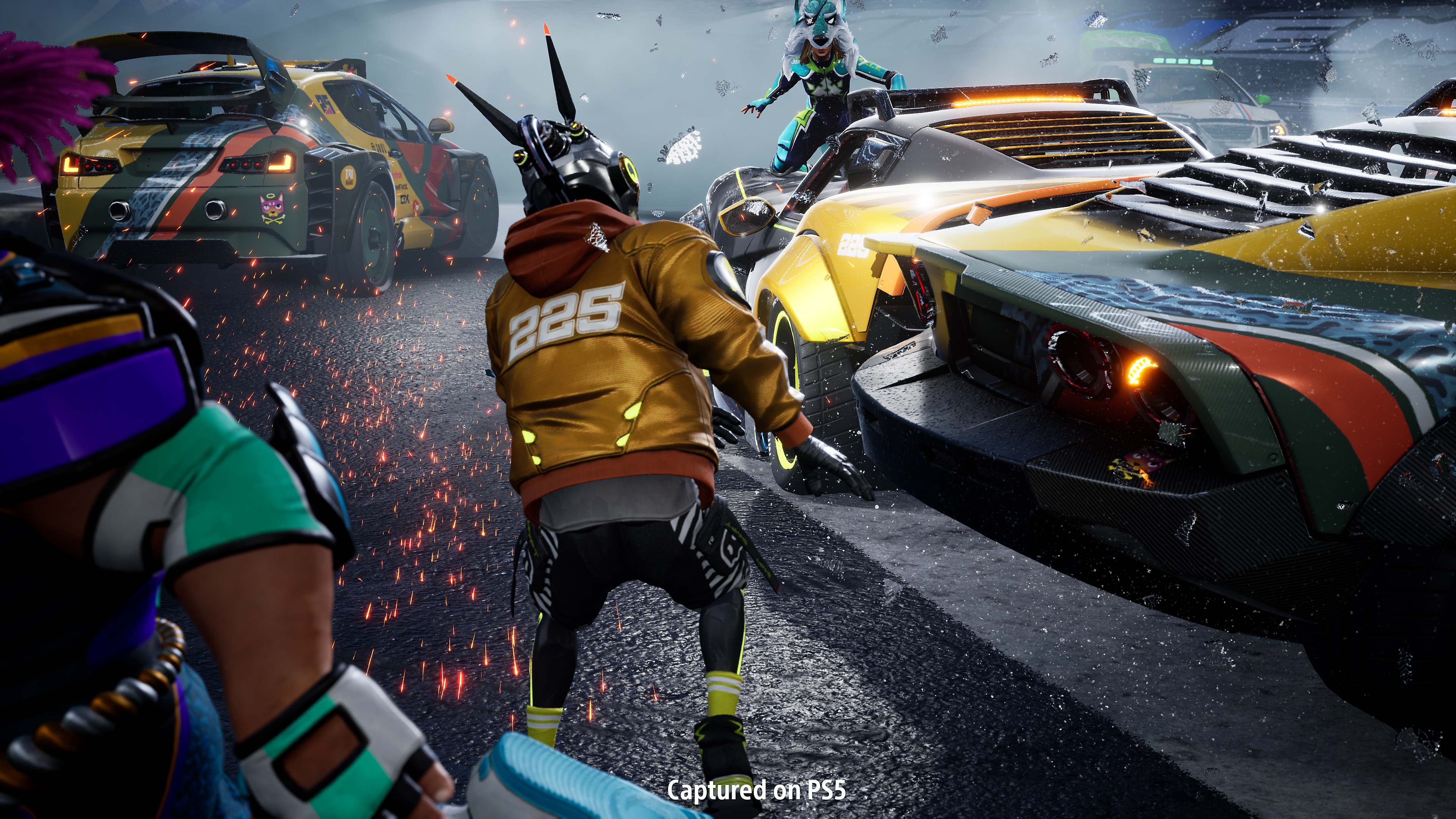 Players are able to take advantage of the PS5 platform to play the game in 60fps 4K with stunning VFX, full controller remapping, and more. In Online Mayhem, players can enter 16-player online matches with their friends, or jump into a Casual quick play session and experience new limited-time rule twists in Special Events.
For Live Service Game, it is a continually updated live service game from SIE with regular season updates featuring everything from new game modes, new characters, skins, emotes and more. And best of all, the game is included with Playstation Plus for subscribers at no extra cost.
Gameplay Tips and Tricks
Don't forget your cars are expendable! If you feel the haptics rumbling whilst your car is bumbling along, it might be time to eject the car and ditch it for a new ride. You're vulnerable when on-foot, but you can jump onto ledges to plan your next move. Don't hold back your Hero Vehicle, call it in ASAP to take advantage! Use your "Breaker" (Hero Ability) whilst on foot to cause some havoc. Every "Breaker" (Hero Ability) gives you faster movement and double-jump, use your agility whilst on foot! Dodging cars using 'Circle' is much more rewarding than using jump, use it to gain XP!