After announcing its mid-ranger realme 6 Pro, realme is ready to unveil its next flagship smartphone – the realme X3 SuperZoom. The device will be launched on the 28th of May, just two days before we enter the month of June.
realme X3 SuperZoom
Dubbed the "Star Hunter", the phone has not been revealed as of yet, but realme has already revealed some key information to the smartphone. It will be powered by the Qualcomm Snapdragon 855+ processor, and will be paired with a display that has 120Hz refresh rate. Besides that, it will also have a quad-camera system which is headlined by a 64MP main sensor, complete with a periscope telephoto sensor that is capable of 60x zoom.
Moving on to unofficial specifications, some have suggested that the realme X3 SuperZoom will sport a 6.6-inch IPS display, 12GB of RAM, as well as a 4,200mAh battery. Apart from the 64MP main sensor, which some are claiming to be from Samsung, there might also be a dual-selfie camera system, comprising of a 32MP Sony IMX616 sensor, and an 8MP ultra wide-angle sensor.
Pricing and Availability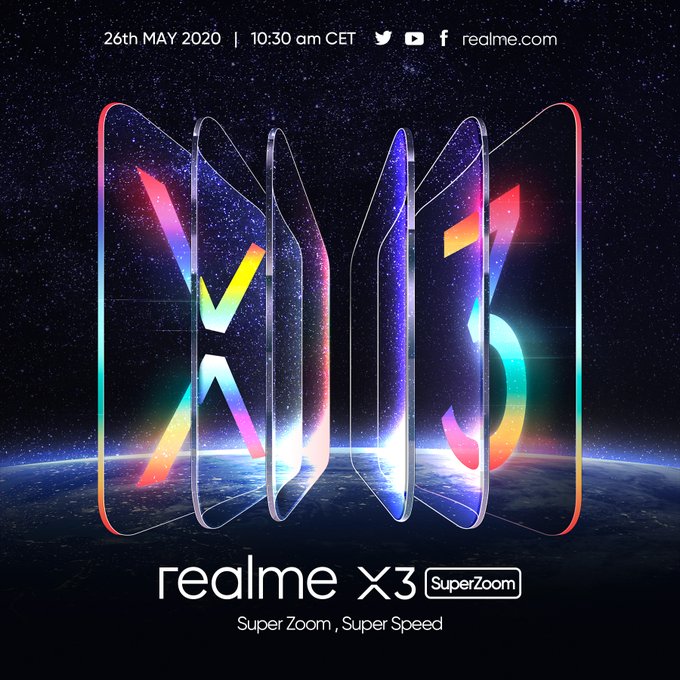 The realme X2 Pro is the brand's current gen flagship smartphone, and it is currently selling for RM2,399. That being said, the realme X3 SuperZoom utilises the same processor, so it would be interesting to see how the brand prices this new device.
According to the above poster, it seems the realme X3 SuperZoom will be launching early on the 26th of May in Europe. However, it isn't far away from Malaysia's launch, as it is only two days after where we will see the device. Stay tuned to the 28th of May for the official unveiling of the realme X3 SuperZoom.