Malaysia has now exit the Conditional Movement Control Order (CMCO) and entered the Recovery Movement Control Order (RMCO) phase.
Recovery Movement Control Order (RMCO)
To start from now until the 31st of August, what does that mean for Malaysians and what are the changeor new additions to this new phase? Read on to find out.
Permission of Interstate Travel
All interstate movement and domestic tourism activities will be allowed during the RMCO phase. However, this excludes areas that are placed under the Enhanced Movement Control Order (EMCO). This means that families can now go for a domestic holiday, but they would have to adhere to new normal practices. According to NextTrip, hotels in Langkawi have been fully booked as soon as the RMCO was announced. On top of that, international travel is still not allowed as Malaysian borders are still closed.
Permission of Business Activities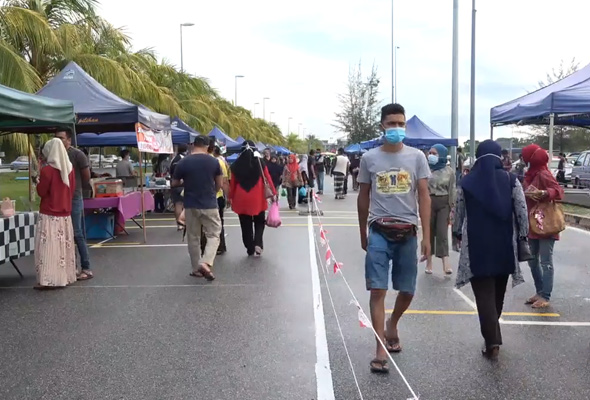 In the RMCO phase, most of the social, education, religious and business activities will be reopened. However, Malaysians will need to follow the strict SOP involved. This includes:
Barber shops
Hair salons
Open market
Pasar pagi
Pasar malam
Pasar tamu
Food trucks
Food stalls
Commercial Activities:
Museum visits
Indoor busking
Self-service dobi
Recreational fishing
Photography
Office meetings and workshops are also allowed, provided the company and its staffs comply with health protocols and space requirements by the government. Businesses' operating hours may resume to normal after they're used to the new required SOP.
Sports and Recreational Activities
There are also new SOP implemented to allow some sports and recreational activities in the RMCO. Team training for sports and activities that don't involve contact are allowed:
Bowling
Badminton
Archery
Shooting
Cycling
Motorcycle convoys
There are more sports and activities allowed, and these are just a few, as long as no contact is involved, it will be fine to carry out. That being said, competitions and sports activities that involve large gathering of fans and spectators like football, swimming pools, rugby, boxing, basketball, and hockey are not allowed.
Re-opening of Schools
After Muhyiddin's consultation with the Ministry of Health, schools will be reopened gradually during the RMCO in stages. As for when this will happen, the Education Ministry will be making an announcement on this when possible.
Free 1GB Daily Data
As part of the economic recovery plan, or Pelan Jana Semula Ekonomi Negara (PENJANA), Malaysians will get a free 1GB daily data starting the 10th of June onwards, till the 31st of December 2020.
This 1GB quota applies to both prepaid and postpaid customers, and they can claim it daily from 8AM to 6PM. This offering may sound like the current free 1GB that is offered, but it is only limited to services that are related to learning and productivity. This includes free unlimited access to Microsoft Office 365 and Zoom video conferences. As for e-learning courses, this applies to courses from Classruum, Udemy, as well as SunagoLearn.
On top of that. Malaysians will have free access to major news sources, complete with connectivity to:
Malaysians will also be able to make free calls to critical and MCO hotlines.
Free RM50 E-Wallet Credit
Also part of PENJANA, Malaysians will get a free RM50 e-wallet credit. Similar to eTunai Rakyat which was announced earlier in the year, this is to encourage cashless and contactless transactions during the RMCO phase.
The RM50 credit will also come with matching discount vouchers, as well as cashbacks worth RM50 for physical purchases. Those above the age of 18 are eligible for the RM50 credit, and it will be implemented between July to September 2020. Do take note that this is only applicable to Malaysians with an annual income of not more than RM100,000.
The distribution of the RM50 credit is expected to benefit 15 million Malaysians, and the cost will be at RM750 million in total. Since the credit is only for offline/physical purchases, Malaysians won't be able to use it for online shopping and non-retail based services.
The Defence Minister, Ismail Sabri has also announced today that those who wish to receive the RM50 credit will need to have the MySejahtera app downloaded. He also added that Malaysians who have returned from foreign countries from the 10th of June will also need to download the app so allow them to undergo isolation from their own homes.
RM5,000 Tax Break For Work From Home Electronics
Under PENJANA, is also the announcement of tax exemption of up to RM5,000 for ICT equipment. PM Muhyiddin Yassin has said that this tax exemption is given to employees (yes, employees) that have received electronic devices from their employers for the purpose of working from home.
These devices include:
Laptops
Smartphones
Tablets
The incentive is to encourage companies, especially small businesses to allow employees to work from home. The individual income tax exemption will start from 1st July 2020. Additionally, there is also a special individual income tax relief of up to RM2,500 for purchases of smartphones, laptops, and tablets which will take effect from the 1st of June 2020.