Introducing the A&S X DC Comics collaboration. A&S, which is a local consumer electronics brand, has announced their entire lineup of consumer electronic products which were made in collaboration with DC Comics. Headlining those products is the Wonder Woman A200SE TWS earbuds. Apart from the earbuds, we also got to see a slew of DC Comics-themed products at the Wonder Woman Concept Fair which is held at SOGO, Kuala Lumpur.
A&S X DC Comics
Wonder Woman A200SE TWS Earbuds
The A&S Wonder Woman A200SE earbuds feature touch controls, wireless charging, Bluetooth 5.0 connectivity, and an IPX5 rating for water and dust resistance. Battery wise, according to the company, it can last for 8 hours on a single charge, and with the charging case, it can offer a total of 24 hours of music playback time. The earbuds are compatible with not just Android, but iOS devices as well.
A&S also showcased a Wonder Woman themed charging dock for the A&S Wonder Woman A200SE earbuds, which connects via USB Type-C. Unfortunately, the charging dock is currently not available for purchase, but it will be made available in the near future.
"A&S's key vision is becoming the industry's No.1 lifestyle electronic brand. A&S is known throughout the industry for our quality, value and service. Our reputation has earned us the exclusive IP rights with DC Comics to manufacture and distribute consumer electronics branded with DC Comics' characters."YC Ng, Chief Executive Officer of A&S Distribution Sdn. Bhd
Also launched at the event were the DC Comics themed A&S 100 Wireless Over-Ear Headphones and A&S 200 Wireless In-Ear Headphones, and a Wonder Woman themed A100SE True Wireless Earbuds.
Interestingly, A&S also launched two cordless vacuum cleaner models which are capable of mopping as well, in the Wonder Woman and Batman theme. There's also the A&S' Cordless Automatic Hair Curler which has been recognized by the CES Innovation Awards program.
Pricing And Availability
A&S' Wonder Woman Concept Fair will be held from the 2nd of October to 11th of October 2020 at Ground Floor Center Atrium in SOGO KL. The Superheroes that are going to be featured on this inaugural series of Limited Edition DC Comics consumer electronic products are Superman, Batman and Wonder Woman. Here are the pricing for the A&S DC Comics collab products: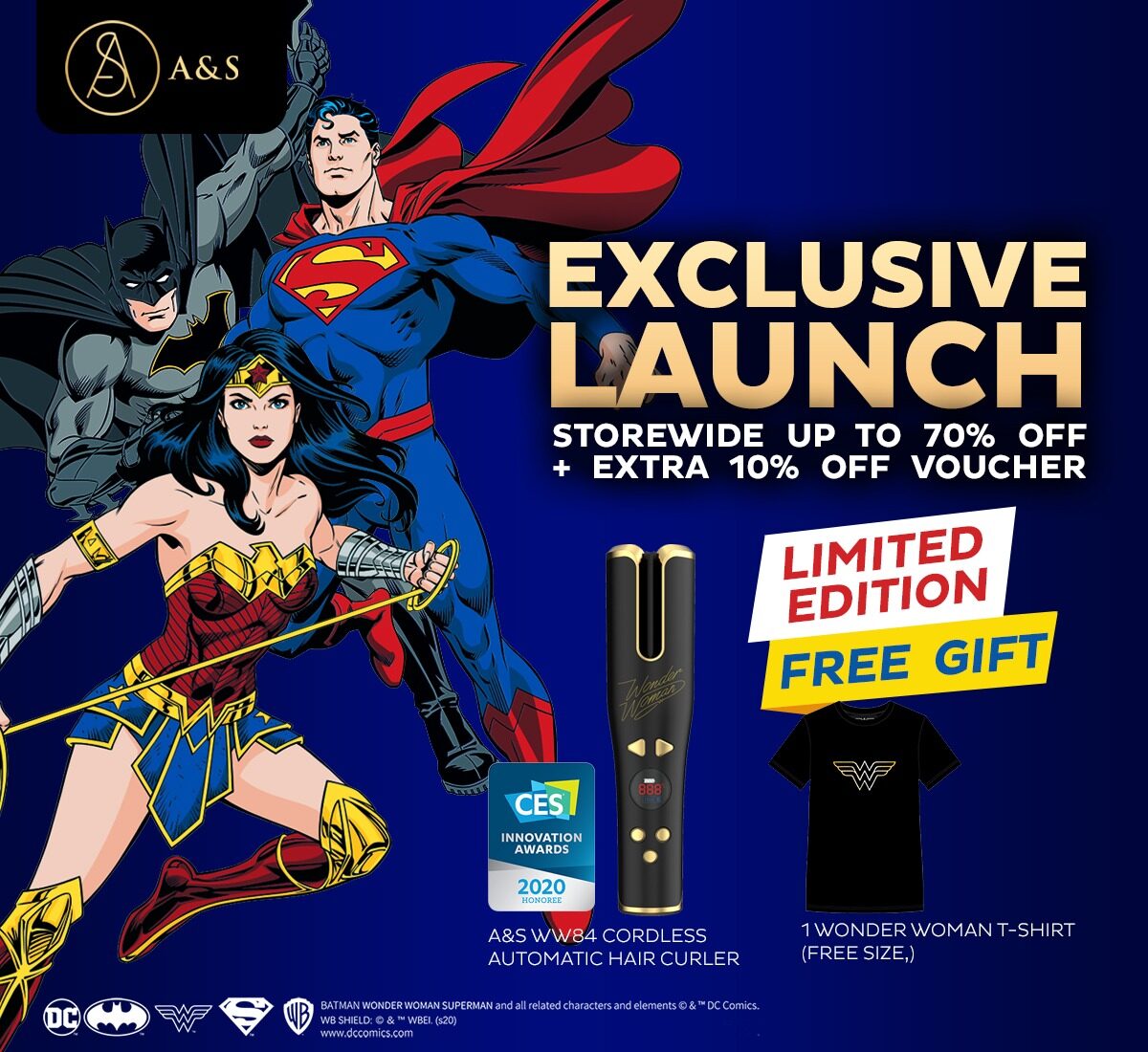 | | |
| --- | --- |
| A&S Wonder Woman A200SE TWS Earbuds | RM329 |
| A&S 100 Wireless Over-Ear Headphones | RM119 |
| A&S 200 Wireless In-Ear Headphones | RM55 |
| A&S A100SE Wonder Woman True Wireless Earbuds | RM109 |
| A&S C120SE Batman Vacuum Cleaner | RM549 |
| A&S S120SE Wonder Woman Vacuum Cleaner | RM1,199 |
| A&S Wonder Woman WW84 Cordless Automatic Hair Curler | RM469 |
To learn more about A&S' collab with DC Comics, you can check out the entire lineup of products here. If you want to purchase one of these limited edition items for yourself, check out A&S' official Lazada store here.