I'll just go ahead and start this review by saying I hate cables. They get tangled, they're messy and they just don't look nice. Audio equipment has pretty much depended on cables to transfer either power, audio, or both. And now, I'm glad we're in the era of TWS – true wireless sound earphones. These are the Xiaomi Redmi AirDots Youth Edition and they're great TWS earphones for anyone to start off with.
Design
The AirDots have a minimalistic, no frills design. There aren't any flashy design cues, just a simple straight-to-your-ear approach and I like that. The Youth Edition only comes in white and that's how to tell if your AirDots are the Youth Edition or not.
The earphones' size are pretty good, they don't jut out of my ears and make me look weird when i'm wearing them. The AirDots don't have any physical buttons on them, so turning them on/off is as simple as putting them in your ears and placing them back in the charging case.
By not having any buttons, the AirDots implement touch sensors for control. Tapping on the AirDots once would play/pause music, tapping twice would skip to the next track. Unfortunately, a triple tap won't backtrack to the previous song though. However, a long press would bring up your phone's assistant for voice commands (Siri for iPhones, Google Assistant for Androids).
As for the AirDots' charging case, I'm not particularly fond of them. The fact that they are white, means they're prone to scuffs and dirt. The casing charges via microUSB, (which should've been Type-C), but considering its price, I would let that slide.
Comfort
Putting the Redmi AirDots on is pretty easy. It goes in with only minimal adjustments to get a snug fit. During exercise, be it running, dancing, or gyming, any head movement I throw at it, the AirDots just won't budge. It firmly stays on your ear and that's very impressive, considering it doesn't need any additional wings to keep it in place.
During my time with the AirDots, for the first 1 or 2 hours, the AirDots feel very comfortable. But anything after that, my ears tend to feel a slight pain. So, I would say that the AirDots are only good for a short commute between places or a regular gym/cardio session. They also come with additional earbud sizes for you to choose from, just in case the regular ones are too big or small for you.
Connectivity
As mentioned above, the AirDots don't have an on/off button. All you need to do to turn it on is to pick it up and put it in your ear. You'll hear a voice prompt saying it's pairing. Go to the bluetooth settings on your phone, select the AirDots, and you'll hear a voice prompt saying it's connected. All that's left is to fire up Spotify for your tunes or start making business calls.
As expected with the Bluetooth 5.0 chip on the AirDots, I didn't hear any audio stuttering at all. Connection was good and pairing them with your smartphone is pretty fast, it can all be done in under a minute.
Sound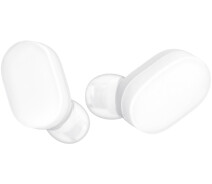 How a TWS earphone sound is the most important aspect to look into when getting a wireless earphone. There's no point spending money on the features and comfort of one when it doesn't sound the way you like it.
I found the AirDots' audio to be good with the highs and mids, but lacks when it comes to the lows. I'm a person who prefers to hear a punch with my music, and I really appreciate the presence of a sweet low bass. Unfortunately, I didn't find that with the AirDots and i didn't and shouldn't need to go through a third party equaliser app just to get it. Having said that, music and call quality is still really good, volume is loud and dialogue heard is clear.
Battery
When it comes to battery life, Xiaomi claims that the Redmi AirDots are capable of 4 hours music playback when both sides are used, 5 hours if only one side is used. Combined with the charging case, it can provide a total of 12 hours of use.
In my case, I listen to music pretty loud, so my usage with both sides on is about 3 hours and 46 minutes, which is not bad. And with the charging case, I got two more charges out of it, giving me a total of 11 hours and 43 minutes of use.
Conclusion
The AirDots does have its cons but they aren't necessarily dealbreakers. There are better TWS earphones out there, but those are on a totally different price bracket. Considering the set of features the AirDots have and its retail price of RMB199 (approx. USD 28.90), I'd recommend them to anyone who wants to try out their first pair of true wireless sound earphones.